Are you looking to download a specialized program to Factory Reset any Oppo Android phone? If so, you've come to the right place. This blog post will provide a comprehensive overview of the Oppo DRT Device Reset Tools V1 and its features, as well as instructions to use and unlock your Android phone with your PC for free.
DRT Device Reset Tools V1.0 is a powerful and comprehensive tool developed by DRT team for Oppo Qualcomm Android users to FRP Erase, Factory Reset, Remove Screen Lock by EDL, Unlock Pattern, Password, Pin Lock through EDL Mode easily in just one click free.
You can use the program to unlock the FRP on your Android 6, 7.0, 8.0, 9.0, 10 11, 12, and the latest Android 13-based phones. It is also compatible with all versions of Windows System, Windows XP, Windows 7, 8, 8.1, 10, and 11 (x32 or 64-bit).
The process to use the tool is easy on your computer, just run the program, then power off the phone and put it into the EDL mode then connect it to the PC, Go back to the tool and select the option you want to use. The device will detect the tool and the unlocking process will be started, that's it.
More: Download Realme Flash Tool for Windows – All Versions
Download DRT Device Reset Tools Oppo V1.0 Latest
Download DRT Tools latest version to your computer If you want to repair your phone easily and conveniently. Please Comment to me down below regarding any issues or errors with the tool.
File Name: UMITEAMQualcommOppoRealmeTool.zip
File Size: 50MB
Download: Click ME
Pass: Droidsolution
Credit: SarjanaSoft Team
Telegram Support: Join Here
More: Download SamFirm Tool Latest Setup V3.0 Free FRP Unlock Tool
How to use DRT Oppo Tools
Download Oppo DRT Device Reset Tools at the following link
Extract all the files
Then Copy All files on the desktop or c drives for a better output
Now open the folder, and launch the "OppoQualcommV2.exe ".
Now you can use functions in the tool

Factory Reset
User lock
FRP
Pattern/PIN/Facelock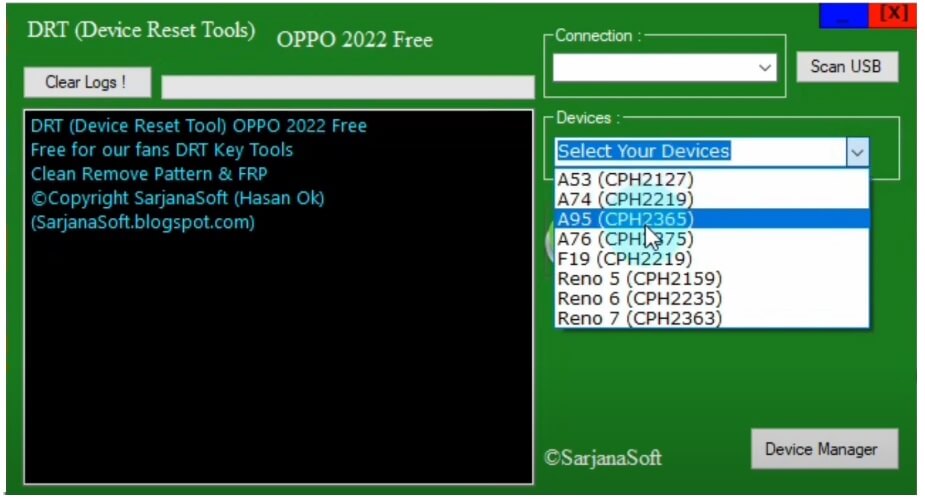 Oppo Supported List

Reno 4 [CPH2113]
Reno 5 [CPH2159]
Reno 6[CPH2235]
Reno 7 [CPH2363]
Oppo A53 [CPH2127]
Oppo A53s [CHP2139]
Oppo A33 [CPH2137]
Oppo A73 [CPH2099]
Oppo A74 [CPH2219]
OPPO A76 [CPH2375]
OPPO A95 [CPH2365]
OPPO A96 [CPH2333]
Oppo A95 [CPH2365]
Oppo F17 [CPH2095]
Oppo F19 [CPH2219]
Power Off your Vivo phone
Put it into the Fastboot Mode by pressing VOL – and Power Key
Then select the option
Wait for finish
Once finished, disconnect & enjoy
Done.
Read More: Download Samsung FRP Tool v1.2b Latest Bypass FRP in MTP mode