Are you looking to download the latest version of the MTK META Utility Tool (V75)? If so, you've come to the right place. This blog post will provide a comprehensive overview of the MTK META Utility Tool and its features, as well as instructions on how to download MTK AUTH Bypass Tool V75 on your PC to unlock the phone for free.

The MTK META Utility Tool is a powerful and comprehensive tool for managing MTK (MediaTek) based mobile devices. The tool is designed to facilitate the flashing and repair of MTK devices, and it is capable of a wide range of actions such as flashing firmware, formatting devices, and reading and writing NVRAM values. Additionally, the MTK META Utility Tool is capable of backing up and restoring device data, including IMEI and NVRAM.
MTK Meta Mode Utility V75 has completely supported all Windows systems, Windows XP, Windows 7, 8, 8.1, 10, and 11 (x32 or 64-bit).
Nowadays, Every MTK Powered Android phone comes with a Secure Boot lock, which means you wouldn't be able to flash your phone or unlock FRP and Pattern lock on a freeway. So, all you need is an auth bypass unlock program to disable the secure boot and disable the USB protection, MTK Meta Mode Utility Tool V63 is a kind of program that helps to unlock the USB protection easily for flashing unlocking through SP Flash Tool easily.
Read more: KS Tool V2 Download Latest (Kyaw Swar Mobile Service Tool) Qualcomm/MTK
Download MTK META Utility V75 MTK AUTH Bypass Tool Latest Version
Download MTK Auth Bypass V75 Tool's latest version to your computer If you want to repair your phone easily and conveniently. Please Comment to me down below regarding any issues or errors with the tool.
File Name: MTKTOOL.zip
File Size: 50MB
Download: MTKMETAUtility
Pass: mtk_meta_utility
Credit: Mofadal Team
Telegram Support: Join Here
More: Download SamFirm Tool Latest Setup V3.0 Free FRP Unlock Tool
Changelogs:
Hello guys, Many users requested this feature in the last 3 months, so I can't finish my vacation before accomplishing it, here we go : D
Pray for me, I'm going through a lot of difficulties these days😌
MTK META Utility V63 :
- Added Samsung old devices (2016 - 2018) Switch preloader mode to Brom mode without test-point (without corrupt PL as well) such as :
* Samsung Galaxy Grand Prime + (SM-G532F) - MT6737T
* Samsung Galaxy J7+ (SM-C710F/DS) - MT6757
* Samsung Galaxy J7 Max (G615F/DS) - MT6757
* Samsung Galaxy On Max (G615FU) - MT6757
* Samsung Galaxy J2 Ace (SM-G532G) - MT6737T
* Samsung Galaxy J2 Prime (SM-G532M) - MT6737T
* Samsung Galaxy C7 2017 (SM-C7000) - MT6757
- No Need to exit Brom, because the device just will enter Brom mode normally same as A10s (no soft-brick).
- The used method is pretty old, called (Platform reset to emergency mode using PWR CTRL registers).
- The method might work on older chipsets (no vendor specified) such as (MT65xx, MT673x, and MT675x).
- I'll share a new post later to explain how they have (MediaTek) disabled this kind of exploiting (PWR CTRL REGS) these days on VIVO MT6765 devices.
$ - This software is provided 'as-is', without any express or implied warranty.
 In no event will the authors be held liable for any damages arising from the use of this software, please only use it for legal servicing and maintenance of mobile phones, and must not be used for illegal purposes.
How to use MTK Auth Bypass Tool V75
First, you'll need to download MTK Meta Mode Utility at the following link
Copy All files on the desktop or c drives for a better output
Now open the folder, and launch the "MTK.exe ".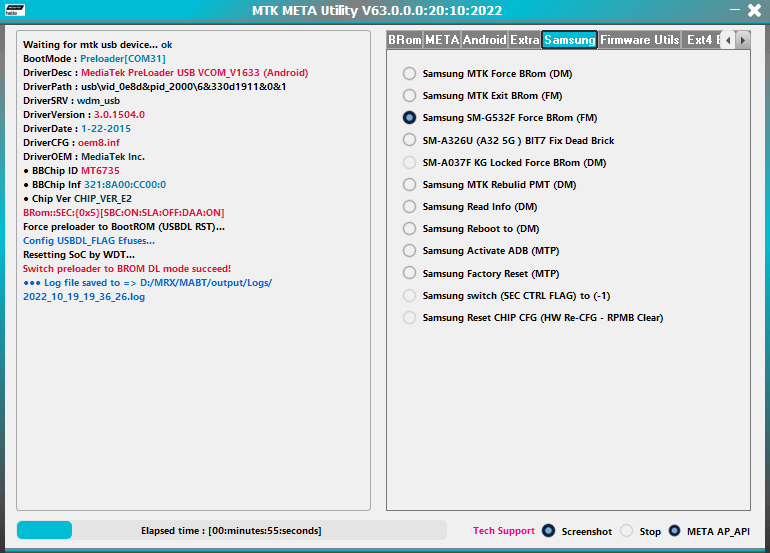 SAMSUNG
Samsung MTK Force BRom (DM)
Samsung MTK Exit BRom (FM)
SM-A326U (A32 5G) BIT7 Fix Dead Brick
SM-A037F KG Locked Force Brom (DM)
Samsung Read Info (DM)
Samsung Reboot to (DM)
Samsung Activate ADB (MTP)
Samsung Factory Reset (MTP)
Samsung switched (SEC CTRL FLAG) to (-1)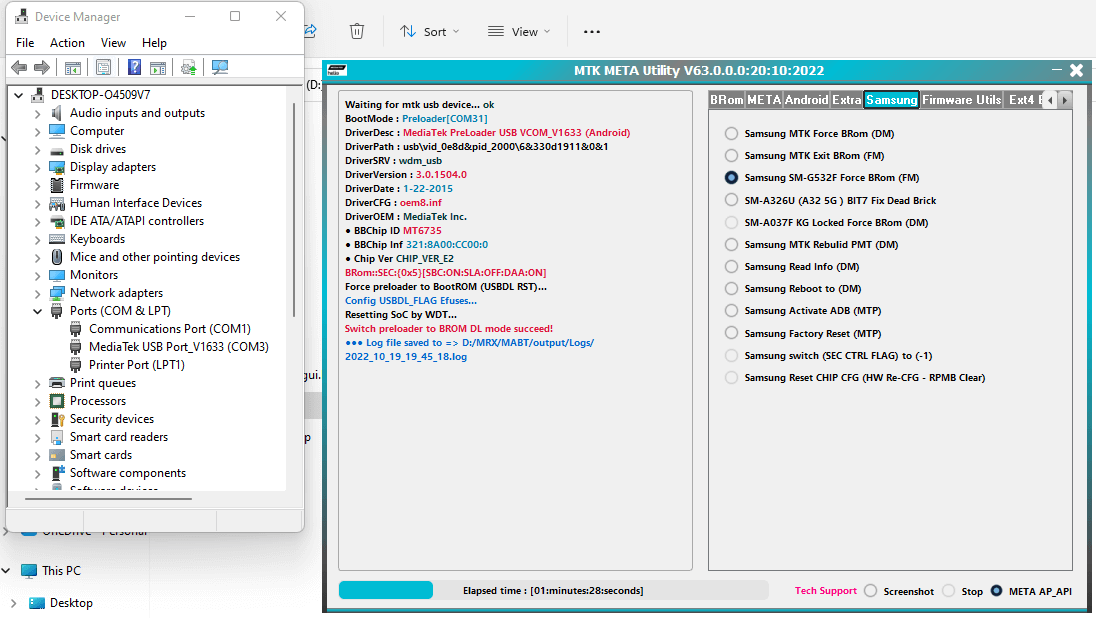 MTK Brom Mode:
Disable Auth
Dump Preloader
Crash Preloader
Crash Preloader To Brom
Samsung MTK Force Brom (DM)
Samsung MTK Exit Brom
Samsung MTK Rebuild PMT (DM)
FRL-L22 Y9A Force Brom
Reboot Meta
Reboot AT Mode
Reboot Factory Mode
Reboot Fastboot Mode
VIVO New SEC Read info (FM)
Analyze MTKA DA
Analyze Preloader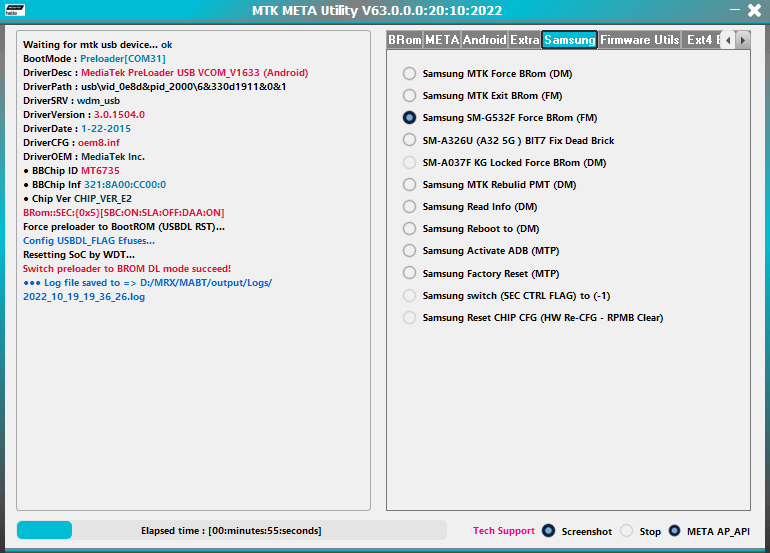 META Mode:
Read Meta Info
Read Part (META)
Format Part (Meta)
Write Part (Meta)
Dump MDDB/APDB (META)
DUMP NV Regions (META)
Dump User area (Meta)
Dump PGPT (Meta)
Dump EXT_CSD (META)
EMMC Health Check (META)
Factory Reset – META
Factory Reset – META 2
Gen FRP Reset PKG (META)
Read NVRAM
Wipe NVRAM
Write NVRAM
Unlock Network
Android Mode:
Read ADB Info
Read Fastboot Info
Exit Fastboot Mode
Xiaomi Enable Diag (ADB)
Install APK (ADB)
Disable the Payjoy APP (ADB)
Generic ADB FRP Bypass
Generic Fastboot Factory Reset
Generic Fastboot FRP Wipe
Wipe NVRAM_NVDATA (Fastboot)
Extract Super IMG
Extract OFP (MTK + QCOM)
Extract Samsung ROM (MTK)
Extract Huawei UPDATE (MTK)
Extract OnePlus ROM (.ops)
Extract LG ROM (.kdz)
Extract RedMagic (payload.bin)
Extra Features:
Samsung Reboot to Download Mode
Samsung Read Info Download Mode
Samsung Factory Reset (MTP)
Samsung Activate ADB (MTP)
Huawei Fastboot To Upgrade
Huawei Normal To Upgrade
VIVO Demo Remove (AT)
VIVO Demo Remove (MT6877T)
PGPT to Scatter
Scatter to PGPT
Power Off from your Mtk device
Press Volume Up and connect USB cable
Select Target SOC (Your Chipset type)
Tap Bypass
That is it.
It'll skip the Auth Security.
Now it's possible to use SP Flash Tool, Miracle Box, UMT, CM2 to unlock your cell phone.
Read More: KS Tool V2 Download Latest (Kyaw Swar Mobile Service Tool) Qualcomm/MTK