MTK META Utility V55 MTK AUTH Bypass Tool is the latest version released by Mofadal Team. It enables users to bypass BROM DAA/SLA Auth protection (Secure Boot) on any Android phone running by MTK MediaTek Chipsets. The latest version also allows users to Disable Auth, Dump Preloader, Format, Factory Reset, Dump User area, Wipe NVRAM, VIVO Demo Remove, etc for free. So, If you searching for an Auth Bypass program to unlock the secure boot lock on your MTK phone then here you have come to the right place. In the following topics, I share with you the link to Download MTK META Utility V55 MTK AUTH Bypass Tool Latest Full Version Free from the below-given link.
MTK Meta Mode Utility v55 is completely compatible with all versions of Windows System, Windows XP, Windows 7, 8, 8.1, 10, and 11 (x32 or 64-bit).
Nowadays, Every MTK Powered Android phone comes with a Secure Boot lock, which means you wouldn't be able to flash your phone or unlock FRP and Pattern lock on a freeway. So, all you need is an auth bypass unlock program to disable the secure boot and disable the USB protection, MTK Meta Mode Utility Tool V55 is a kind of program that helps to unlock the USB protection easily for flashing unlocking through SP Flash Tool easily.
Read more: KS Tool V2 Download Latest (Kyaw Swar Mobile Service Tool) Qualcomm/MTK
Download MTK META Utility V55 MTK AUTH Bypass Tool Latest Version
Download MTK Auth Bypass V55 Tool's latest version to your computer If you want to repair your phone easily and conveniently. Please Comment to me down below regarding any issues or errors with the tool.
File Name: MTKTOOL.zip
File Size: 50MB
Download: Click ME
Pass: DROIDSOLUTION.COM
Credit: Mofadal Team
Telegram Support: Join Here
More: Download SamFirm Tool Latest Setup V3.0 Free FRP Unlock Tool
How to use MTK Auth Bypass Tool V55
First, you'll need to download MTK Meta Mode Utility at the following link
Copy All files on the desktop or c drives for a better output
Now open the folder, and launch the "MTK.exe ".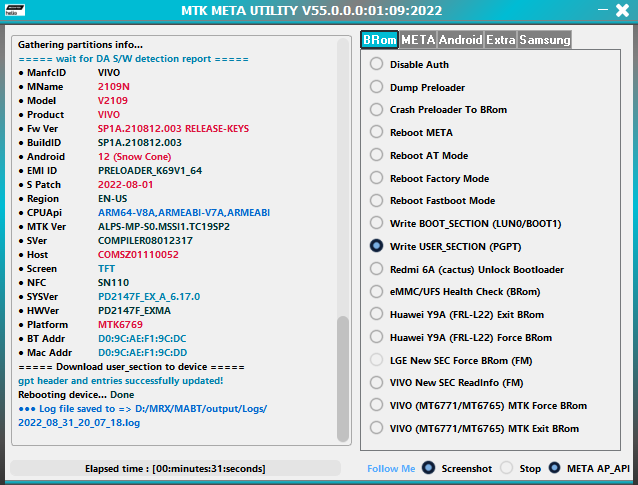 MTK Brom Mode:
Disable Auth
Dump Preloader
Crash Preloader
Crash Preloader To Brom
Samsung MTK Force Brom (DM)
Samsung MTK Exit Brom
Samsung MTK Rebuild PMT (DM)
FRL-L22 Y9A Force Brom
Reboot Meta
Reboot AT Mode
Reboot Factory Mode
Reboot Fastboot Mode
VIVO New SEC Read info (FM)
Analyze MTKA DA
Analyze Preloader
META Mode:
Read Meta Info
Read Part (META)
Format Part (Meta)
Write Part (Meta)
Dump MDDB/APDB (META)
DUMP NV Regions (META)
Dump User area (Meta)
Dump PGPT (Meta)
Dump EXT_CSD (META)
EMMC Health Check (META)
Factory Reset – META
Factory Reset – META 2
Gen FRP Reset PKG (META)
Read NVRAM
Wipe NVRAM
Write NVRAM
Unlock Network
Android Mode:
Read ADB Info
Read Fastboot Info
Exit Fastboot Mode
Xiaomi Enable Diag (ADB)
Install APK (ADB)
Disable the Payjoy APP (ADB)
Generic ADB FRP Bypass
Generic Fastboot Factory Reset
Generic Fastboot FRP Wipe
Wipe NVRAM_NVDATA (Fastboot)
Extract Super IMG
Extract OFP (MTK + QCOM)
Extract Samsung ROM (MTK)
Extract Huawei UPDATE (MTK)
Extract OnePlus ROM (.ops)
Extract LG ROM (.kdz)
Extract RedMagic (payload.bin)
Extra Features:
Samsung Reboot to Download Mode
Samsung Read Info Download Mode
Samsung Factory Reset (MTP)
Samsung Activate ADB (MTP)
Huawei Fastboot To Upgrade
Huawei Normal To Upgrade
VIVO Demo Remove (AT)
VIVO Demo Remove (MT6877T)
PGPT to Scatter
Scatter to PGPT
Power Off from your Mtk device
Press Volume Up and connect USB cable
Select Target SOC (Your Chipset type)
Tap Bypass
That is it.
It'll skip the Auth Security.
Now it's possible to use SP Flash Tool, Miracle Box, UMT, CM2 to unlock your cell phone.
Read More: KS Tool V2 Download Latest (Kyaw Swar Mobile Service Tool) Qualcomm/MTK