ST Bootloader All MTK Tool is a free utility application for Windows 10 or later versions That were created by Sahril Techno It allows users to relock or unlock the bootloader for any MediaTek (MTK) phone. So, If you searching for a Bootloader unlock program from your MTK Android phone then here you have come into the right place. In the following topics, I share with you the link to Download ST Bootloader MTK Tool V1.0 Latest Full Version Free from the below-given link.
ST Bootloader All MTK Tool V1 is completely compatible with all versions of Windows System, Windows XP, Windows 7, 8, 8.1, 10, 11 (x32 or 64 bit).
Unlocking the Bootloader permits users to download custom firmware for their Android phone, and grants the user full access to make changes to the phone. These modifications may involve altering some of the software that is preloaded or changing the whole operating system.
Relock bootloader permits you to go restore the device to its original condition. And if you want to use your mobiles again. You can purchase an entirely new piece or box and your mobile warranty will be extended.
More: Download TFT MTK Module Tool V5.01 Latest Version – MediaTek Unlock All Lock Free
Download ST Bootloader MTK Tool V1.0 (All MediaTek) Latest Version
If you want to repair your phone successfully then you have to download the ST Tool to your computer first. So, check below you will get the link to download the file.
File Name: STMTKBootloaderTOOL.zip
File Size: 50MB
Download: MTKTOOL
Pass: DROIDSOLUTION.COM
Credit: ST Team
Telegram Support: Join Here
More: Download SamFirm Tool Latest Setup V3.0 Free FRP Unlock Tool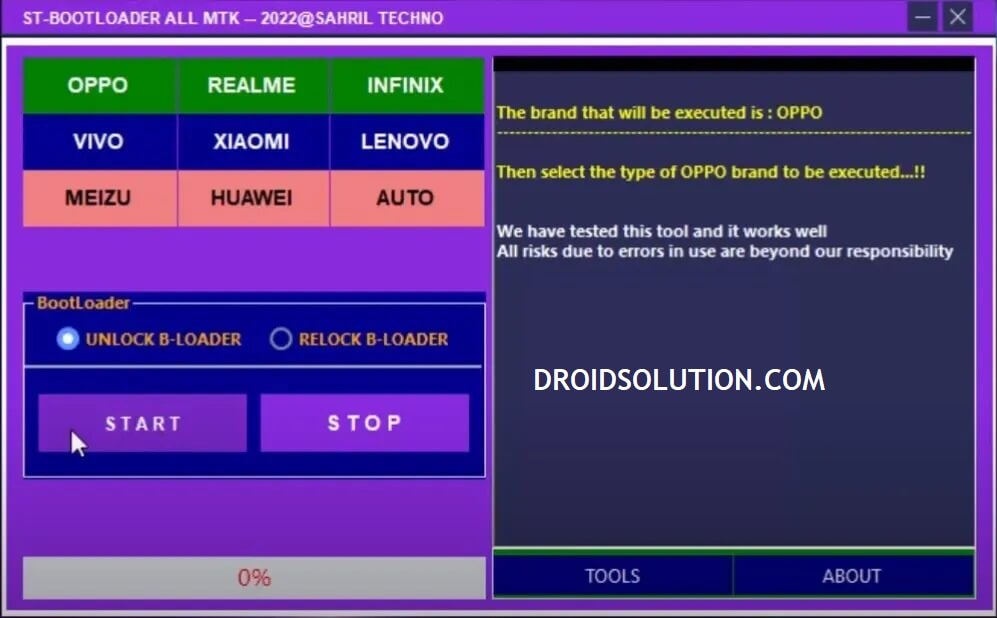 How to Use ST Bootloader MTK Tool V1.0
The first step is to first download the file using the link below.
You will need to extract all the files
The setup file should be run using admin"ST-BootLoader.exe"
After that step is to close the setup and open the shortcut file on your the desktop "ST-BootLoader"
You'll need to install all the drivers you have already installed them. You can skip this step
Connect the phone to the internet and try to accomplish any function
Done.
Read More: Download GSM Flasher ADB Bypass FRP Tool Latest Version Free for Windows