GH QC Samsung FRP Remove Tool V1 is a unique software developed by GSM Hamza for Samsung Galaxy Qualcomm devices for Bypassing FRP lock in just one click free via EDL mode. So, If you are searching for a one-click unlocking program to unlock the FRP on your Samsung Galaxy Qualcomm phone then here you have come to the right place. In the following topics, I share the link to Download GH QC Samsung FRP Remove Tool V1 Latest Full Version Free from the below-given link.
GH Samsung FRP Tool V1 is completely compatible with all versions of Windows System, Windows XP, Windows 7, 8, 8.1, 10, and 11 (x32 or 64-bit). It supports any Android 5.0, 6, 7, 8, 9, 10, 11, and 12 version Qualcomm-powered devices easily.
You can use the tool very easily on your computer, just run the program, then power off the phone and put it into the EDL mode then connects it to the PC, Go back to the tool and select the option you want to use. The device will detect into the tool and the unlocking process will be started, that's it.
More: Download Realme Flash Tool for Windows – All Versions
Download GH QC Samsung FRP Remove Tool V1 GSM Hamza Latest Version
Download GH QC Samsung FRP Remove Tool V1 latest version to your computer If you want to repair your phone easily and conveniently. Please Comment me down below regarding any issues or errors with the tool.
File Name: GHQCSamsungQCTOOL.zip
File Size: 50MB
Download: Click ME
Pass: DROIDSOLUTION.COM
Credit: GSM Hamza
Telegram Support: Join Here
More: Download SamFirm Tool Latest Setup V3.0 Free FRP Unlock Tool
How to use?
First, you'll need to download GSM Hamza QC Samsung FRP EDL Tool at the following link
Copy All files on the desktop or c drives for a better output
Now open the folder, and launch the "QC.exe ".
Now, turn off your Qualcomm mobile phone Put it into the EDL mode, and connect it.
Install the Qualcomm USB Driver on your computer first if your device isn't detected.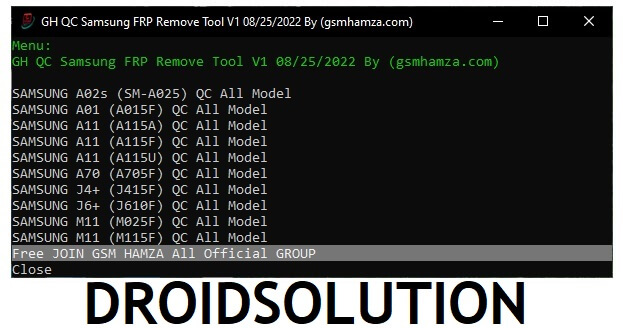 Select the model of the device.
Select the option that you wish to use in the tool
The unlocking process begins
Wait for the finish,
That's it.
List of Supported devices
A02s
SM-A025F, SM-A025F/DS, SM-A025G, SM-A025G/DS,
SM-A025M, SM-A025M/DS, SM-A025U, SM-A025V,
SM-A025A, SM-A025U1, SM-A025AZ, SM-S124DL
A01
SM-A015F, SM-A015F/DS, SM-A015G, SM-A015G/DS,
SM-A015M, SM-A015M/DS, SM-A015T1, SM-S111DL,
SM-A015V, SM-A015A, SM-A015AZ
A11
SM-A115F/DS, SM-A115F, SM-A115M, SM-A115M/DS,
SM-A115U, SM-A115A, SM-A115AZ, SM-A115U1,
SM-A115W, SM-A115AP, SM-S115DL
A70:
SM-A705F, SM-A705FN, SM-A705GM, SM-A705MN,
SM-A7050, SM-A705W, SM-A705YN, SM-A705X,
SM-A705U
J4+:
SM-J415F, SM-J415FN, SM-J415G, SM-J415GN,
SM-J415N
J6+:
SM-J610F, SM-J610F, SM-J610G, SM-J610FN
M11:
SM-M115F, SM-M115F/DSN, SM-M115M, SM-M115M/DS
Read More: Download Samsung FRP Tool v1.2b Latest Bypass FRP in MTP mode